Some weeks ago I had the wonderful opportunity to ask Olga Neuwirth about her preparation methods and extended piano techniques. What I learned from this interview at the piano is part of my dissertation [extended piano techniques. Perspektiven auf ausgewählte Klavierwerke 1980–2018, PhD Diss. Universität für Musik und darstellende Kunst Wien 2021]. As a preview to that, I am happy to share some information here about the small silicone balls [Silikonbällchen]. 

Dissatisfied with the acoustic result produced by various rubber erasers in piano preparation, Olga Neuwirth devised the use of small silicone balls, which she prescribes in eight works of differing instrumentation. These preparation objects are made from commercially available plumbing silicone sealant and are by no means perfectly round. Rather, they should be covered with bumps and creases so that they are more effectively jammed between the strings and are texturally differentiated from eraser rubber.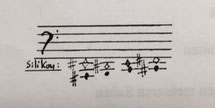 These silicone balls are used mainly in the register of the great octave (from two ledger lines below the bass clef). Their characteristic sound is such that the prepared string's fundamental tone and its overtones are clearly audible. Olga Neuwirth distinguishes two different kinds of string positioning:
when the small silicone ball is placed directly on a specified nodal point, the corresponding overtone can be heard clearly as a harmonic;  

when the placement is not specified, and can be chosen freely (preferably off of a nodal point), then inharmonic overtones produce a "bell-like" sound.
Audio example (please use good speakers or headphones):
1 silicone balls at the 7th partial (double octave)
2 inharmonic overtones